Avalon 2017 Benefit: High Noon and the Hollywood Blacklist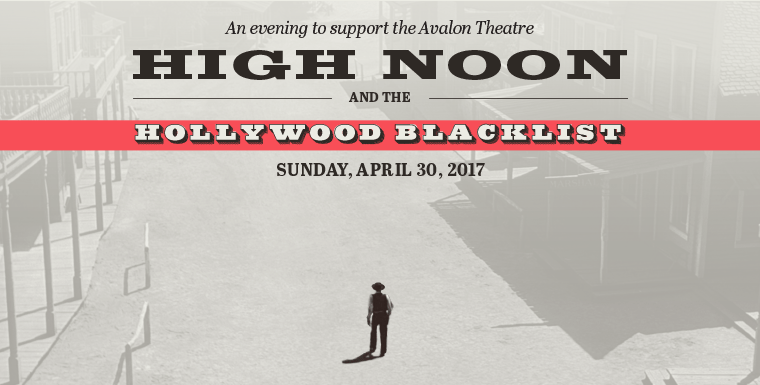 Online ticketing is no longer available for this event. Tickets may be purchased at the Avalon box office on the day of the event.
1952's Oscar-winning HIGH NOON tells the story of a man (Gary Cooper, in a career-defining role) who stands his ground in the face of hopeless odds. Released at the height of McCarthyism, the film was a powerful allegory of events happening across America, including behind the scenes of the film itself. During shooting, screenwriter Carl Foreman was called to testify before the House Un-American Activities Committee and, refusing to give names, was blacklisted.
The Avalon's spring benefit reflects on the "Red Scare" era of the 1950s through the lens of this brilliant film. Join us on April 30 at 5pm for a reception followed by a 7pm screening of HIGH NOON. After the film, event host Kathleen Matthews will speak with Pulitzer award-winning author Glenn Frankel about his new book High Noon: The Hollywood Blacklist and the Making of an American Classic, discussing how HIGH NOON's focus on courage and loyalty takes on deeper meaning in light of Foreman's testimony and remains relevant today.
Leading up to the event, the Avalon will present three films that address the Hollywood blacklist and its fallout: TRUMBO, GOOD NIGHT AND GOOD LUCK and THE WAY WE WERE. Underwriters and $250 ticket holders will receive FREE admission to these screenings.
Signed copies of Frankel's book are also available for purchase.
Proceeds from this year's event will support the Avalon Theatre's film education programs and general operating purposes.
About the Film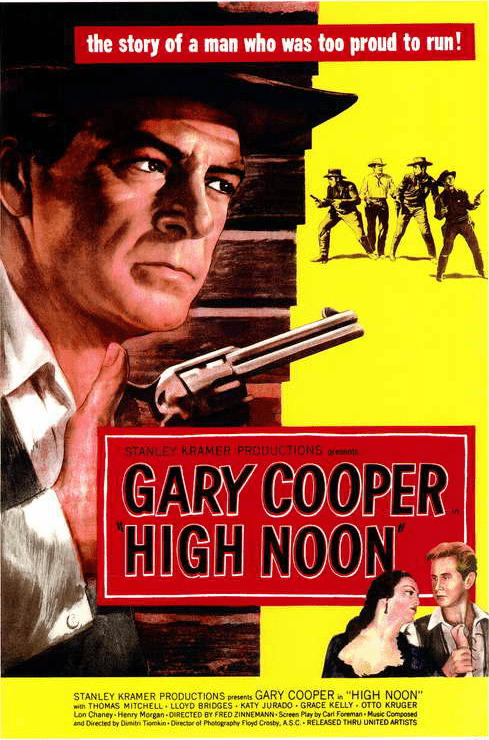 One of the great treasures of American cinema, HIGH NOON stars the legendary Gary Cooper as lawman Will Kane, a marshal who stands alone to defend a town of cowardly citizens against a gang of killers out for revenge. Unfolding in real time, Kane stands to lose everything when the clock strikes noon – his friends, his honor, and his Quaker bride, played by Grace Kelly in one of her first screen roles. Nominated for seven Academy Awards, including Best Picture, the film went on to win four and continues to endure as a timeless American classic. PG, 85 min, in English
Guest Speaker

Glenn Frankel is an award-winning author, journalist and professor. Most recently, he served as Director of the School of Journalism and G.B. Dealey Regents Professor at the University of Texas at Austin after four years as a visiting journalism professor at Stanford University. He was a longtime Washington Post reporter, where he won the 1989 Pulitzer Prize for International Reporting, and later served as editor of the Washington Post Magazine. His previous book The Searchers: The Making of an American Legend was a New York Times and Los Angeles Times bestseller and a Library Journal Top Ten book for 2013. His newest book is High Noon: The Hollywood Blacklist and the Making of an American Classic. He currently lives in Arlington, VA.
Event Host

Kathleen Matthews has worked in the nation's capital for 40 years as a journalist, corporate executive, and political activist. For nine years, Kathleen was Chief Communications and Public Affairs Officer for Marriott International, the world's largest hotel company. Prior to that, she spent 25 years as a news anchor and reporter at DC's ABC-TV affiliate. In 2016 she ran as a Democrat for Congress in Maryland's 8th District and was elected interim chair of the Maryland Democratic Party in 2017. She has been awarded multiple journalism awards, including nine local Emmys, the Human Rights Campaign's Straight Ally Award, Washington Business Journal's "Woman Who Means Business" award, and Washingtonian of the Year. She and her husband Chris Matthews are regular patrons and long-time supporters of the Avalon Theatre.

Event Underwriters
Platinum
Lynn & Bill Choquette
Louie & Ralph Dweck
Kathleen Maloy & Heather Burns
Gold
Heather & Chris Davenport
Donetta George
Jodie Levin-Epstein & Barry Zigas
Beth Wehrle & Matthew Miller
Silver
Courtney & Carl Bergeron
Annie Burns & John Monahan
Phyllis & Barry Caldwell
Debra Fried Levin & Joshua M. Levin
Patricia Karp & Judith Powers
Heidi & Bill Maloni
Kathleen & Chris Matthews
Host Committee
Bitsey Folger, Founding chair
Arch Campbell
Ann Crittenden
Caroline Croft
Louie & Ralph Dweck
Cleo & Michael Gewirz
Marion Guggenheim
Sarajane Johnson & Arthur Goldberg
Aviva Kempner
Kitty Lansdale
Myra MacPherson
Heidi & Bill Maloni
Kathleen Maloy & Heather Burns
Judith & Richard Meltzer
Diane Orentlicher & Morton Halperin
Peggy Parsons
Beverly Schacht
Susan Stamberg
Vali Tschirgi & Adam Nemzer
Katharine Weymouth
Susan Wiener