Fri, Aug 1
A Five Star Life
(Viaggio Sola)
A FIVE STAR LIFE is the sophisticated and delightful story of one woman's quest for personal and professional fulfillment set against some of the most stunning cities and opulent hotels of the world.  Stylish and independent, Irene (Margherita Buy) is a single career woman in her forties with a job to die for.  As a luxury hotel critic, she checks into the world's finest establishments incognito to assess their standards, meticulously judging every detail from the concierge's manners to the temperature of the food to the quality of the bedsheets.  Her elegant, unattached lifestyle affords her the freedom to jet around the globe at a moment's notice to experience a world of luxury, but doesn't leave her with much of a personal life.  On the rare occasions she's not working, Irene's world revolves around her absent-minded sister Silvia (Fabrizia Sacchi), two lively young nieces, and best friend–and former lover–Andrea (Stefano Accorsi).  But when Silvia begins to deal with marital problems and Andrea faces an unexpected life change, Irene's small support network is fractured and she struggles to balance a glamorous career with the growing desire for something more.  After a chance meeting shakes up her worldview even more, she's compelled to reexamine her choices and charts her own path to happiness despite the expectations of others. Described by The Hollywood Reporter as "part Up In The Air, part Eat Pray Love," A FIVE STAR LIFE is a warm and heartfelt trip worth taking.
Watch the trailer:
Music Box Films
Fri, Aug 1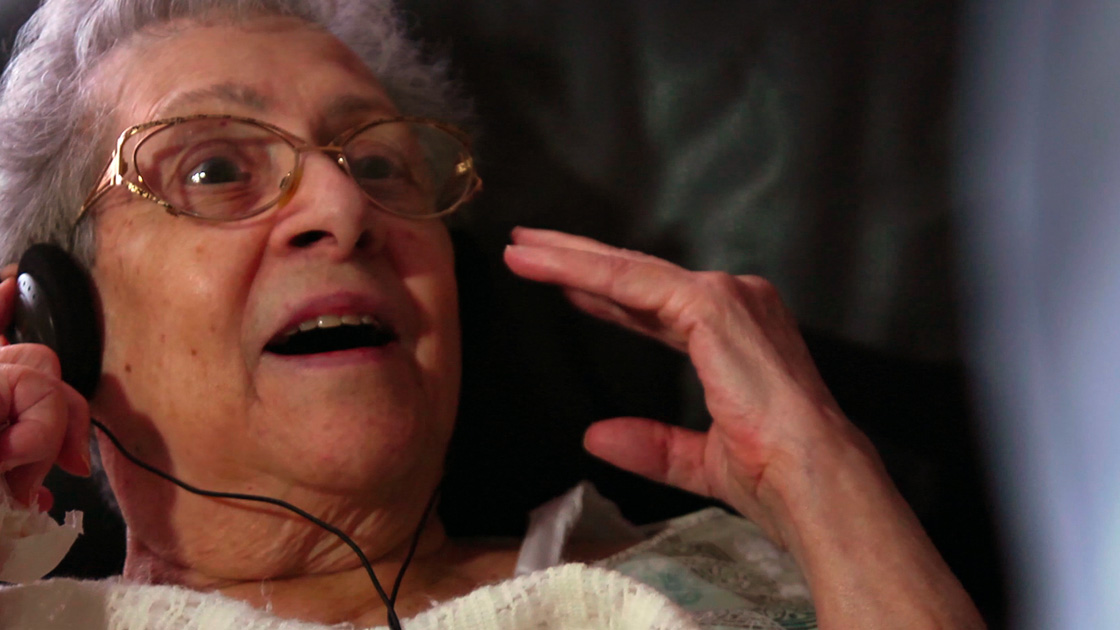 "
A gloriously inspirational film documenting music's healing power in Alzheimer patients.
"
–Duane Byrge, The Hollywood Reporter
"
Makes a powerful argument… The scenes in which [the patients] and others are shown listening to music that has personal meaning are absolutely joyous, but they also might move you to tears.
"
–Michael O'Sullivan, The Washington Post
"
Winner! 2014 Sundance Festival Audience Award
"
–
ALIVE INSIDE is a joyous cinematic exploration of music's capacity to reawaken our souls and uncover the deepest parts of our humanity. Filmmaker Michael Rossato-Bennett chronicles the astonishing experiences of individuals around the country who have been revitalized through the simple experience of listening to music. His camera reveals the uniquely human connection we find in music and how its healing power can triumph where prescription medication falls short.
This stirring documentary follows social worker Dan Cohen, founder of the nonprofit organization Music & Memory, as he fights against a broken healthcare system to demonstrate music's ability to combat memory loss and restore a deep sense of self to those suffering from it. Rossato-Bennett visits family members who have witnessed the miraculous effects of personalized music on their loved ones, and offers illuminating interviews with experts including renowned neurologist and best-selling author Oliver Sacks (Musicophilia: Tales of Music and the Brain) and musician Bobby McFerrin ("Don't Worry, Be Happy").
An uplifting cinematic exploration of music and the mind, ALIVE INSIDE's inspirational and emotional story left audiences humming, clapping and cheering at the 2014 Sundance Film Festival, where it won the Audience Award.
Watch the trailer:
Bond/360
Fri, Jul 18
"
CRITIC'S PICK! One of the finest European films in recent memory.
"
–-- A.O. Scott, The New York Times
"
A film of exceptional artistry whose emotions are as potent and persuasive as its images are indelibly beautiful.
"
–-- Kenneth Turan, Los Angeles Times
From acclaimed director Pawel Pawlikowski (Last Resort, My Summer of Love) comes Ida, a moving and intimate drama about a young novitiate nun in 1960s Poland who, on the verge of taking her vows, makes a shocking discovery about her past.
18-year old Anna (stunning newcomer Agata Trzebuchowska), a sheltered orphan raised in a convent, is preparing to become a nun when the Mother Superior insists she first visit her sole living relative. Naïve, innocent Anna soon finds herself in the presence of her aunt Wanda (Agata Kulesza), a worldly and cynical Communist Party insider, who shocks her with the declaration that her real name is Ida and her Jewish parents were murdered during the Nazi occupation. This revelation triggers a heart-wrenching journey into the countryside, to the family house and into the secrets of the repressed past, evoking the haunting legacy of the Holocaust and the realities of postwar Communism.
 In this beautifully directed film, Pawlikowski returns to his native Poland for the first time in his career to confront some of the more contentious issues in the history of his birthplace. Powerfully written and eloquently shot, Ida a masterly evocation of a time, a dilemma, and a defining historical moment; Ida is also personal, intimate, and human. The weight of history is everywhere, but the scale falls within the scope of a young woman learning about the secrets of her own past. This intersection of the personal with momentous historic events makes for what is surely one of the most powerful and affecting films of the year.
Watch the trailer:
Music Box Films
---
---
---

Add any amount of money to your Avalon Card– for use at the theater and Café. Purchase one now »